Sleigh & Story were invited by the Forget Me Not Children's Hospice to produce a tax guide on 'Gifts to Charity made by Limited Companies'.
We were delighted to show our support by producing this guide for them and it is now hot off the press with 1,000 guides arriving this morning!
Click on the image to see the electronic copy of the tax guide:
It is to be distributed with the 99p campaign leaflets of which Sleigh & Story are already supporters: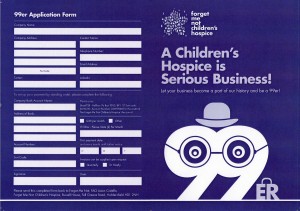 Debbie Story is also doing a sponsored Skydive in July to raise money for the hospice.  Watch this space for more details!