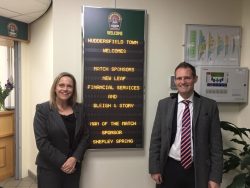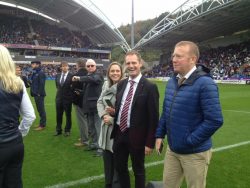 On Sunday 16th October, Sleigh & Story were privileged to be the main match sponsors for the Huddersfield Town v Sheffield Wednesday match at the John Smiths Stadium. Peter Sleigh & Debbie Story, along with some special guests, were treated to a full tour of the stadium which included the chance to see all the trophies in the trophy room and the opportunity to see the changing rooms and other aspects of the club not normally viewed by the general public.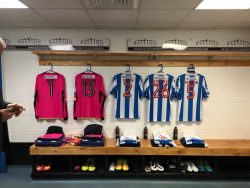 Following this they were then taken to their own hospitality area where brunch was served. Following the fantastic food and excellent service, it was presentation time on stage. It was a pleasure to share this with their friend and business associate Mark Edley from New Leaf Financial Services, who was also a match sponsor. This was a very proud moment. Debbie put this in her own words " It was the highlight of my Sleigh & Story career to date!"
After the meal Peter & Debbie and their guests were escorted onto the pitch for centre circle pictures with officials and captains before the match kick-off.
After the match our sponsors presented the trophy to the "Man Of The Match" which was yet another fantastic honour. Unfortunately the score didn't go Huddersfield Town's way (the score was 1-0 to Sheffield Wednesday). Nevertheless spirits were high and our sponsors and friends had a truly unforgettable day.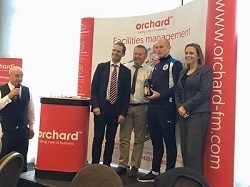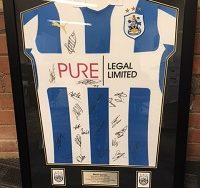 Sleigh & Story are now proud owners of a signed Huddersfield Town Football Club shirt which will have pride of place in the reception area.