Peter Sleigh – His Journey Into Coaching
Peter Sleigh has recently qualified with distinction as a Coach with The Coaching Academy and he is over the moon about it!
He is well known as the CEO of Sleigh & Story, a very successful accountancy practice which employs 10 people in the UK and people overseas, and now has a turnover of more than half a million pounds.  Why move into coaching?
For a number of years Peter recognised the ability of self-development to improve his life, giving him the tools to be proactive.  This came to a head 10 years ago when he was on a family holiday in Switzerland.  On the face of it he had it all – a lovely wife, an amazing son, a fantastic business which paid him well, and yet he was unhappy. He picked up a copy of a self-development book – "Stephen Covey's 7 Habits of Effective People" and reading it literally changed his outlook on life completely.   He started to take responsibility for his own feelings and actions; stopped blaming others; looked at himself and changed himself rather than trying to change things he had no control over.  His life took on a new perspective and he found inner peace.  He had the tools to be able to control his mind and therefore he could find happiness by controlling his thoughts through the power of mindfulness.  If he could do this for himself, could he transfer these skills to others to help them too?
From here came his encounter with NLP – Neuro Linguistic Programming.  Peter qualified as an NLP Practitioner and began to learn more and more about the mind works.  He realised he had the ability to coach and a great desire to help others sort out their lives.  From here the coaching seed had been planted….
After a free 2 day Coaching Academy taster event at Manchester online Peter decided that this was something he wanted to pursue.  After speaking to the Coaching Academy a couple of days later (where they checked out his commitment, values and suitability of being a student) the hard work began!  He put a post on his Facebook page to see if anyone was interested in being coached for free as part of his training.  He was inundated with requests.  This was a real learning curve for him and his coaching ability improved quickly. At the beginning he had some real "car crash" coaching sessions which taught him a lot and as his confidence grew he was finally ready to book his first practical assessment.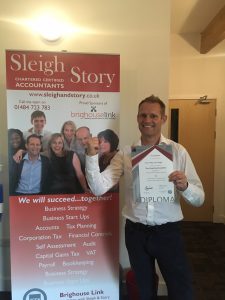 He booked several accelerator days which he took in 6 consecutive months.  This involved staying at the Wyndham Hotel in Crewe where he gained support from fellow students and made new friends.  It was a very valuable experience.  Several webinars later Peter was required to complete a 3000 word learning journal documenting his learning journey– his coaching, accelerator days, webinars and 1-1s were all included in this paper allowing him to reflect on what he had learnt.  It was important that this was a document in progress throughout the journey and not rushed through at the end.
Peter is very proud of his achievement and is looking forward to incorporating coaching into his work at Sleigh & Story and offering this service to clients.